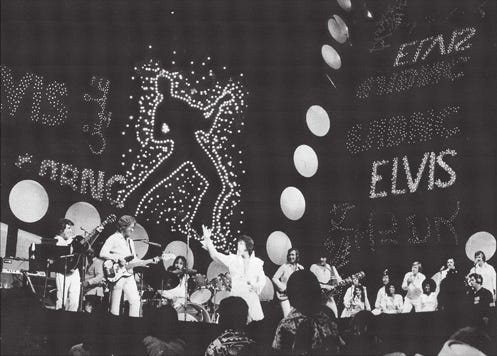 Welcome to our second of three episodes taking a deep dive into the landmark concert via satellite, Elvis Aloha From Hawaii, with Gary Wells (www.soulrideblog.com).
In this instalment, we consider the lessons learnt from the dress rehearsal show, then Gary takes us on an in-depth and personal journey into the music and the performance of the international broadcast event. We recognise the supporting talent on stage, including Hawaiian jazz legend Gabe Baltazar Jnr, who played the perfect flute solo in American Trilogy, and learn how Elvis' introduction of actor Jack Lord (Hawaii Five-0) came about and how their friendship unfolded.
We discuss the post-concert recording session in preparation for the domestic television special, the audience figures and early press reaction, and examine what might have been one of the final periods of genuine emotional connection and unity between Elvis and Colonel Parker, albeit by means of a letter.
---
Companion Newsletter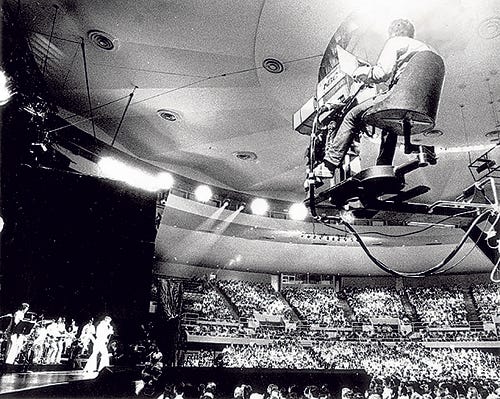 Showtime! The dress rehearsal concert was held at 8.30 pm on January 12, 1973, and was celebrated by noted music writer Dave Marsh as perhaps the finest example of a 1970s Elvis concert ever recorded. It was taped as a fallback in the event of a broadcast malfunction which, as we've learned, was a very real possibility right up until the last moment.
But it was a rehearsal after all, and it was a little rough around the edges, with stumbles over lyrics and a number of things to be fine-tuned. Elvis decided to have his hair restyled, and for the satellite broadcast there were some minor wardrobe changes as well, with Elvis choosing the slightly snugger fitting version of the eagle suit, and there were brighter and more contrasting colours for the leis and scarves to bring out the best in the jumpsuit for the cameras.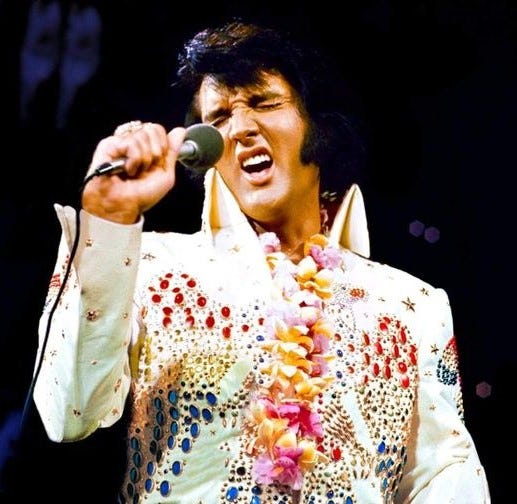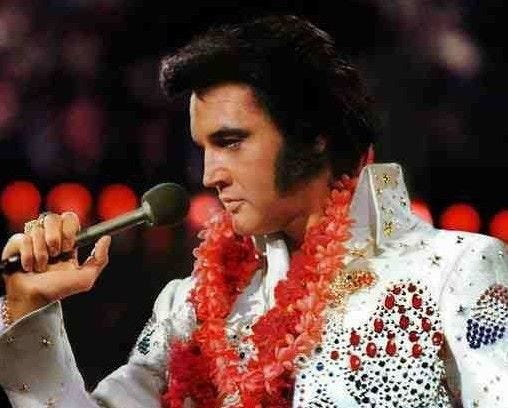 Rehearsals and soundchecks continued beyond the dress-rehearsal performance and extended throughout the following day (January 13th), as Marty Pasetta and his hand-picked crew worked frantically to overcome potentially disastrous technical faults, including interference in the sound, fixed thanks to local entertainment icon Don Ho and a truckload of lead sheeting courtesy of the US Navy. As we discussed, Marty Pasetta told the Palm Springs Desert Sun in 2013, that powerlines to the arena had been cut leading up to the show, although this was not clarified as to whether it had been accidental or deliberate. In other sources, the power failure was blamed on overloading by the television broadcast equipment.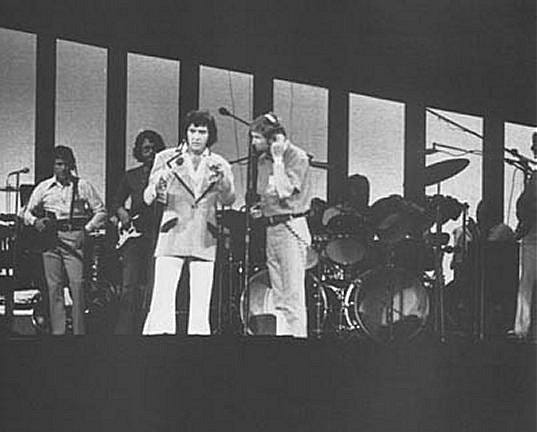 The capacity of the Honolulu International Centre was reduced by over 2 000 to accommodate the staging and television studio equipment, allowing an in-person audience of 6 000 for each show. With technical problems resolved in the nick of time, the satellite broadcast began at 12.30 am on January 14th.
Gary now takes us on an in-depth, personal journey through some of the musical highlights of the diverse setlist, which had been carefully devised by Elvis, Charlie Hodge and Red West. After a slightly tentative beginning, You Gave Me a Mountain was the point where things really kicked in; from Steamroller Blues to What Now My Love, It's Over, My Way, the Kui Lee standard I'll Remember You, American Trilogy and beyond, in a performance described by Advertiser reporter Wayne Harada as a 'thrilling, compact hour'.
During the band introductions, Elvis' ever loyal close friend, musical collaborator, vocal coach, harmony singer and uncredited co-producer, Charlie Hodge, was jokingly introduced as a 'general flunky', to a global audience. (Of all the times and places!).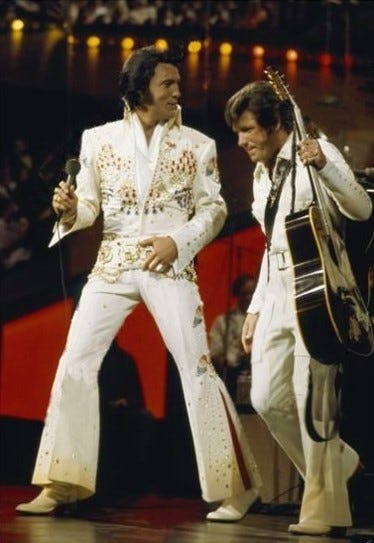 Ever one to share the credit, Elvis also thanked Marty Pasetta and his crew, and the arena audience, for the $75 000 raised for the Kui Lee cancer research fund, more details of which we covered in our previous episode and newsletter. He also introduced Jack Lord (Hawaii Five-0), and Gary gives us a little background on how Jack Lord's invitation to the show came about, and how his friendship with Elvis evolved.
See Gary's full Jack Lord bio here.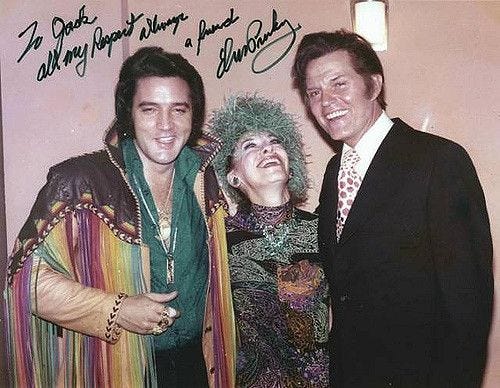 Perhaps the musical highlight of the show, and even the greatest single ensemble performance of Elvis' entire career, was the flawless rendition of Mickey Newberry's American Trilogy, towards the end of the concert.
Here it is, from the Elvis official YouTube channel.
The flute soloist who performed his part so perfectly and was justly rewarded with a great close-up, was Gabe Baltazar Junior, a Korean War veteran, jazz sax player and flautist whose distinguished musical career included several years at NBC where he conceivably encountered Marty Pasetta.
According to his bio at Alchetron;
"…From 1960 to 1965 he gained international recognition as a world class jazz artist with (Stan) Kenton, recording on 17 critically acclaimed LPs to include backing singers such as Nat King Cole, Jean Turner, and Ann Richards…Between 1965 and 1969 he worked extensively in the Los Angeles recording studios, principally for NBC, where he played in the television orchestras for The Pat Boone Show, The Jerry Lewis Show, The Beautiful Phyllis Diller Show, The Tonight Show with Johnny Carson, The Smothers Brothers Show, and The Glen Campbell Goodtime Hour…Baltazar returned home to Hawaii in 1969 to re-join and then become assistant director of the Royal Hawaiian Band… In 1973, Baltazar played sax and flute in the famous Elvis: Aloha from Hawaii satellite broadcast concert and had a close-up flute solo during An American Trilogy (Battle Hymn of the Republic)…"
Link here to the complete biography at Alchetron, where you can also see Gabe Baltazar interviewed and watch him at work.
(Post edit: Gabe Baltazar Jnr sadly passed away June 12, 2022, aged 92. Read his obituary at wbgo.org)
After about an hour on stage, the cape and belt shot off into the audience, and the show came to its conclusion with the standard closer, Can't Help Falling in Love, from the soundtrack to Blue Hawaii and which had been a #2 hit single (Billboard) in 1961.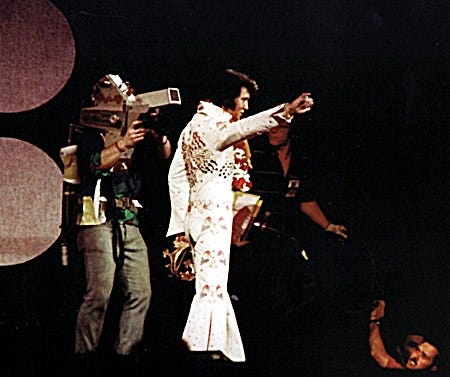 Once the arena was cleared after the show, Elvis and the band returned to the stage to record a handful of tracks to be included in the expanded domestic television version which would air on NBC in April. It was a consummate display of professionalism and stamina from everyone, on camera and off, and showed what a great rapport and mutual respect had developed between Elvis and Marty Pasetta. Elvis dutifully did retakes as requested, and rose above a number of mistakes, including his own.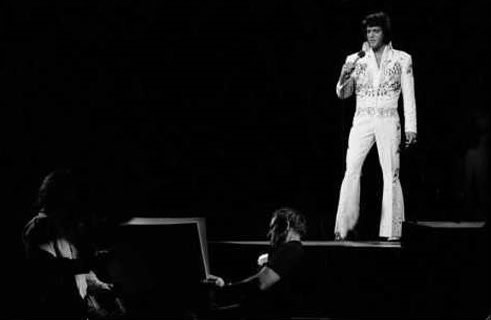 Some of the ratings for the satellite concert were in early, and Colonel Parker was on hand to report the stunning success of the show.
From Peter Guralnick's Careless Love: The Unmaking of Elvis Presley
"…Colonel came in as they were recording Early Morning Rain, the last number, and announced proudly that they had gotten the highest rating ever registered in Japan, with 37.8% of the viewers in a highly competitive six-network market. There was a real sense of jubilation in the air…"
Marty Pasetta told the Palm Springs Desert Sun in 2013;
"…What I was told by NBC and others is that every third person on earth saw that first show when it went out. In Africa and places like that, it played in theatres, they didn't have television…"
Some other audience figures (as provided by RCA publicity) – 91% of the Philippine population watched, 25% of Hong Kong's population watched, from where it was also relayed into Macau and China; it reached 70 – 80% of the TV sets in South Korea and, according to Rocco Laginestra (RCA Records President), was also relayed by the Armed Forces Network to South Vietnam. (Bearing in mind the war was ongoing).
Wayne Harada wrote the concert review in the Honolulu Advertiser, which has become something of an official account with lines quoted widely in subsequent publications and biographies. He described the Honolulu International Centre as a 'supersized TV studio' with camera crews everywhere, 'on stage, in the aisles, in the audience, zooming in on Presley and his breakthrough performance.'
"…Perhaps only a phenomenon like Presley could pull off such a coup, at such a wicked showgoing time – 12.30 am curtain, Hawaii time – yet draw a full house…"
He referred to the show as 'smartly paced and packaged to suit all camps in the Presley following', noting the effective blending of older songs and later hits. The inclusion of local musicians in the orchestra was also noted with appreciation, as was Kui Lee's ballad, I'll Remember You, and the fact that the gate was a benefit for the cancer research charity in his name;
"…For the Hawaii audience, his I'll Remember You vocal easily was the most sentimental. The Presley version retained the Hawaiian flavour, but also capitalized on the international scope of the tune; it easily could emerge as Presley's next No. 1 hit…Yesterday's show reaffirms Presley's and manager Col. Tom Parker's philanthropic fondness for Hawaii. Like the enduring nature of Kui Lee's music, the incandescence of Presley is incomparable…"
A transcript of the complete article can be found here (Thanks again to Francesc Lopez and elvisconcerts.com).
Wayne Harada retired from the Honolulu Advertiser in 2008 after 45 years as entertainment editor and columnist. You can find his current work at www.wayneharada.com.
---
A Correction from Gary:
"…I must apologize to Miss Ketty Lester who, of course, sang "Love Letters". It was not Kitty Kallen, as I said on this episode. Ketty is alive today, aged 87…"
We hope you enjoyed this second instalment in the Aloha adventure.
Next time: The live album, the domestic TV version, and we try to get a handle on some tricky financial manoeuvres as RCA moves to exert more control over Elvis' catalogue.