In this episode, we reflect on a couple of important 50th anniversaries in 2023; Elvis' pioneering satellite concert, Aloha From Hawaii, which was broadcast internationally in January of 1973, and the August release of one of the iconic movies of the 1970s, American Graffiti, both of which we've discussed previously.
These were landmark moments in entertainment, but both faced potential disaster right up until the last moment. Aloha From Hawaii nearly collapsed due to catastrophic technical faults, while Universal Studios executives had major reservations about American Graffiti to the point that it very nearly did not even get a release. As we know, it went on to become one of the most profitable movies of all, and turbocharged the careers of some of the most influential and successful filmmakers and actors of the late 20th century.
Our leading contributor Gary Wells (www.soulrideblog.com) joins us for some personal thoughts on American Graffiti at 50, and we revisit our previous segment on the movie which we recorded in 2021.
We also add to our three-part series on Aloha From Hawaii with some background on legendary Hawaiian music promoter and DJ, Tom Moffatt, who briefly interviewed Elvis upon his arrival in Hawaii ahead of the satellite broadcast. We also mark the sad passing of Gabe Baltazar Jnr, who played the perfect flute solo in American Trilogy.
---
Companion Newsletter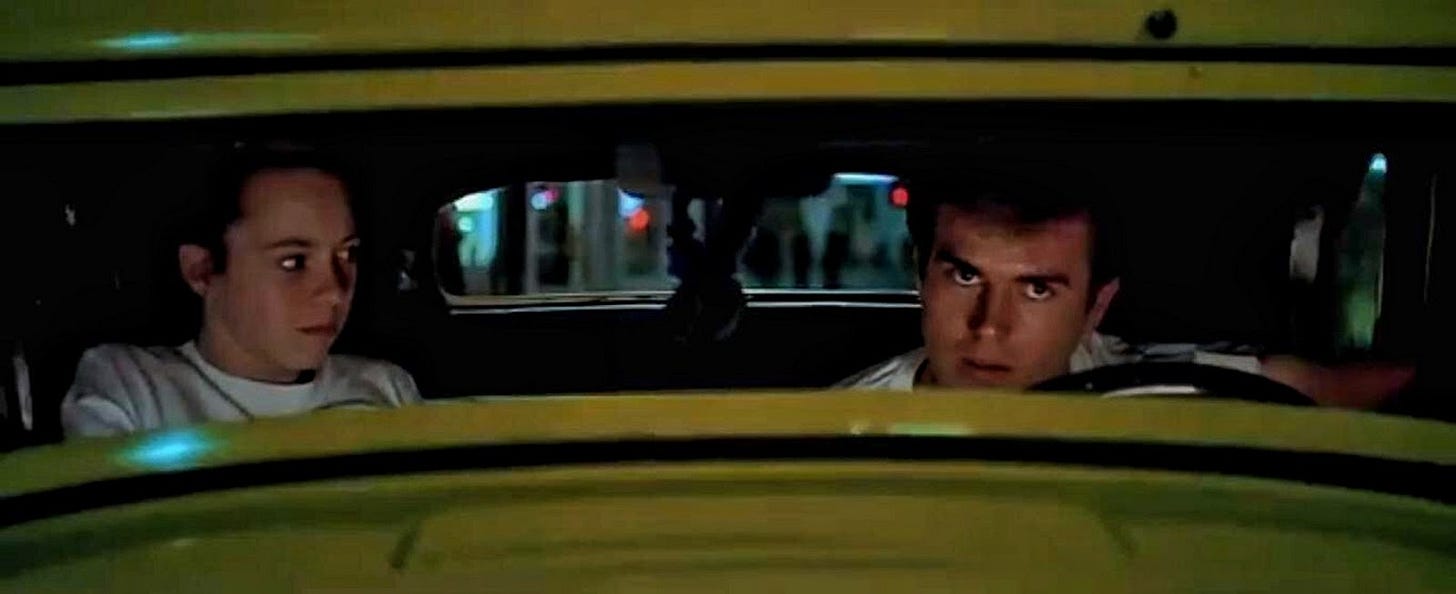 Gary adds to our original segment on American Graffiti with some further comments pertinent to the anniversary, and why the film holds such personal significance for him, as it does for many people. For some more in-depth background, facts and commentary, Gary's series of articles on his own website is thoroughly recommended. He's since also written a detailed piece on the 1979 sequel, More American Graffiti, and has reviewed Wolfman Jack's autobiography as well.
Find all of this great content here.
---
Since recording our three-part series with Gary on Aloha From Hawaii, we note the sad passing of a supremely talented musician whose critically important contribution we highlighted; Gabe Baltazar Jnr played the flute solo in American Trilogy, and was rewarded by director Marty Pasetta with a great closeup. He was a professional jazz flute and sax player who enjoyed a long and distinguished career on the US mainland and at home in Hawaii. He passed away June 12th, 2022, aged 92.
Read his WBGO obituary here.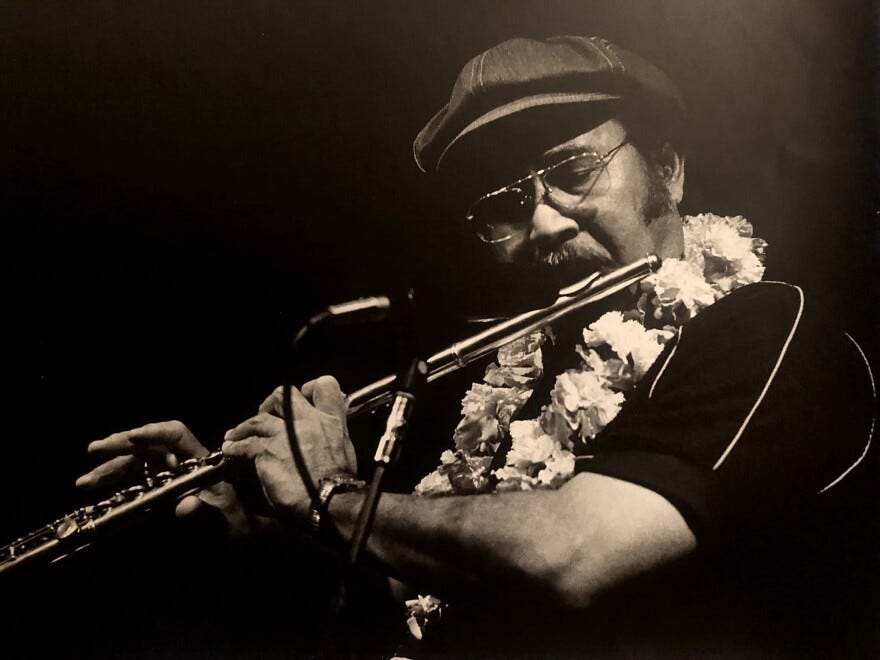 We also must reiterate a correction to episode one of our Aloha series. We credited the design of the American Eagle style jumpsuit solely to Bill Belew, however we should have also credited Bill Belew's design associate, Gene Doucette, who actually came up with the specific eagle concept. This correction has been noted in the original episode newsletter and on the podcast summaries.
---
When Elvis arrived in Honolulu on January 9th, 1973, several days ahead of the rehearsal concert and satellite broadcast, he was helicoptered from the airport to the Hilton Village for a filmed reception with fans, and where he had a few brief words with an old friend, local radio DJ and music promoter 'Uncle' Tom Moffatt. We alluded to this moment in our series, but didn't elaborate on the identity of the interviewer.
Tom Moffatt was a DJ and concert promoter who, according to his 2016 obituary on Hawaii News Now, 'made his name in the islands in 1957, when he brought Elvis Presley to perform before thousands of adoring fans'. Tom Moffatt told Hawaii News that Elvis' first show in Hawaii was one of the most exciting events he had ever presented, 'I remember he did Hound Dog and then everybody's screaming. He jumped off the stage, got on his knees with his guitar and the place went bananas.'
Moffatt had been promoting Elvis' Hawaiian fan club around the time of Love Me Tender, organising a competition to win the hat Elvis wore in the movie and receiving 53 000 entries, alerting Colonel Parker to Elvis' enormous local popularity. Elvis played three very successful shows in Honolulu over November 10th and 11th, 1957, cementing the relationship. Keen to secure Elvis for his first touring show after discharge from the Army, Moffatt bailed up Colonel Parker who was vacationing in Hawaii while Elvis was still in Germany, securing a commitment on the promise of a huge petition signed by local fans, urging Elvis to come back to Hawaii.
The result would be the famous USS Arizona Memorial benefit show in 1961, which raised over $65 000, more than 10% of the final cost of the project. According to Moffatt in an interview with Dutch television, the idea for the benefit aspect was Colonel Parker's alone, responding to news that the entire memorial project was about to collapse through lack of funding. Parker and Elvis covered all their own expenses (as they did in 1975 for the McComb Tornado benefit in Mississippi), which was held at Jackson's State Fair Coliseum.
The Honolulu Star-Advertiser described Tom Moffatt as 'one of the most influential figures in the Hawaii entertainment industry', the first rock DJ in Hawaii and one of the pioneers of modern Top 40 Radio, dominating the ratings throughout the 1960s on Hawaii radio station KPOI. He was clearly liked and trusted by both Elvis and Colonel Parker, and was given access for interviews, including long-distance by phone to Germany, and later brought some Hawaiian fans, contest winners, to visit Elvis on the Hollywood set of Blue Hawaii, where they were able to talk informally beyond the limitations of a normal interview.
Over six-decades as a concert and event promoter, Tom Moffatt Productions brought a spectacular roster of artists to Hawaii, including Jerry Lee Lewis, Bo Diddley, The Shirelles, Connie Francis, the Beach Boys, Rolling Stones, Everly Brothers, Jimi Hendrix, Elton John, Frank Sinatra, Sammy Davis Jnr, Liza Minelli, Michael and Janet Jackson, Whitney Houston and the Eagles. According to his obituary, he presented almost every big name in the music business at least once, presented classical concerts, ballet and musical theatre, and was the leading promoter of 'mega-concerts' at the 50 000 seat Aloha Stadium. He also ran record labels and was strongly committed to actively promoting local artists and material.
He continued working as a promoter and DJ into his 80s, and passed away in December 2016, aged 85. Tom Moffatt's radio colleague Bart DaSilva described him as 'a helluva man, on the air and off the air, the last of an era, a very special human being of a very special time, who was a catalyst to make it that much more special'.
Like Eddie Sherman and Don Ho, both of whom featured prominently in the story of Aloha From Hawaii, Tom Moffatt is another fascinating part of the adventure, and played a crucial role in cementing Elvis' relationship with the Hawaiian people, which developed through music, movies and philanthropy, and which culminated in this global music event, Aloha From Hawaii, in January, 1973.
Happy 50th Anniversary.