In this special extended episode, our leading contributor Gary Wells, www.soulrideblog.com, is our guide for an immersive audio tour through Memphis and Las Vegas. We're considering these destinations wholly in the context of mid-twentieth century entertainment and culture, and what are essential places of interest for the 'vintage leisure' enthusiast.
We begin in Memphis, and visit Sun Records, the Stax Museum, Al Green's Full Gospel Tabernacle Church, Beale Street, and a highly significant site on Audubon Drive. We explore Elvis Presley's Graceland in detail, and of this Gary says;
"It's a hundred percent worth it, and what you get is the feeling, the experience. Elvis worked, lived, operated here. This is his home. It really does add an intangible and a strong dimension to your pursuit of the man and his world."
(This episode was recorded prior to the passing of Lisa Marie Presley).
We then reconvene in Las Vegas to investigate a colourful history, from its early beginnings as a wild west desert railroad stopover, to its post-war glory years as the ultimate gambling and entertainment destination; epitomised by the Flamingo and the Sands, Bugsy Siegel, the Rat Pack, Elvis and the Showroom Internationale. We also seek out some undaunted traces of vintage Vegas, still to be discovered amongst the corporate splendour of the Bellagio and the MGM Grand.
---
Companion Newsletter
We begin in Memphis, situated on the Mississippi River in southwestern Tennessee, the state's second largest city. Our starting point is Days Inn, adjacent to Graceland and conveniently central to other attractions significant to our 'vintage leisure' tour, and very much part of the Elvis experience.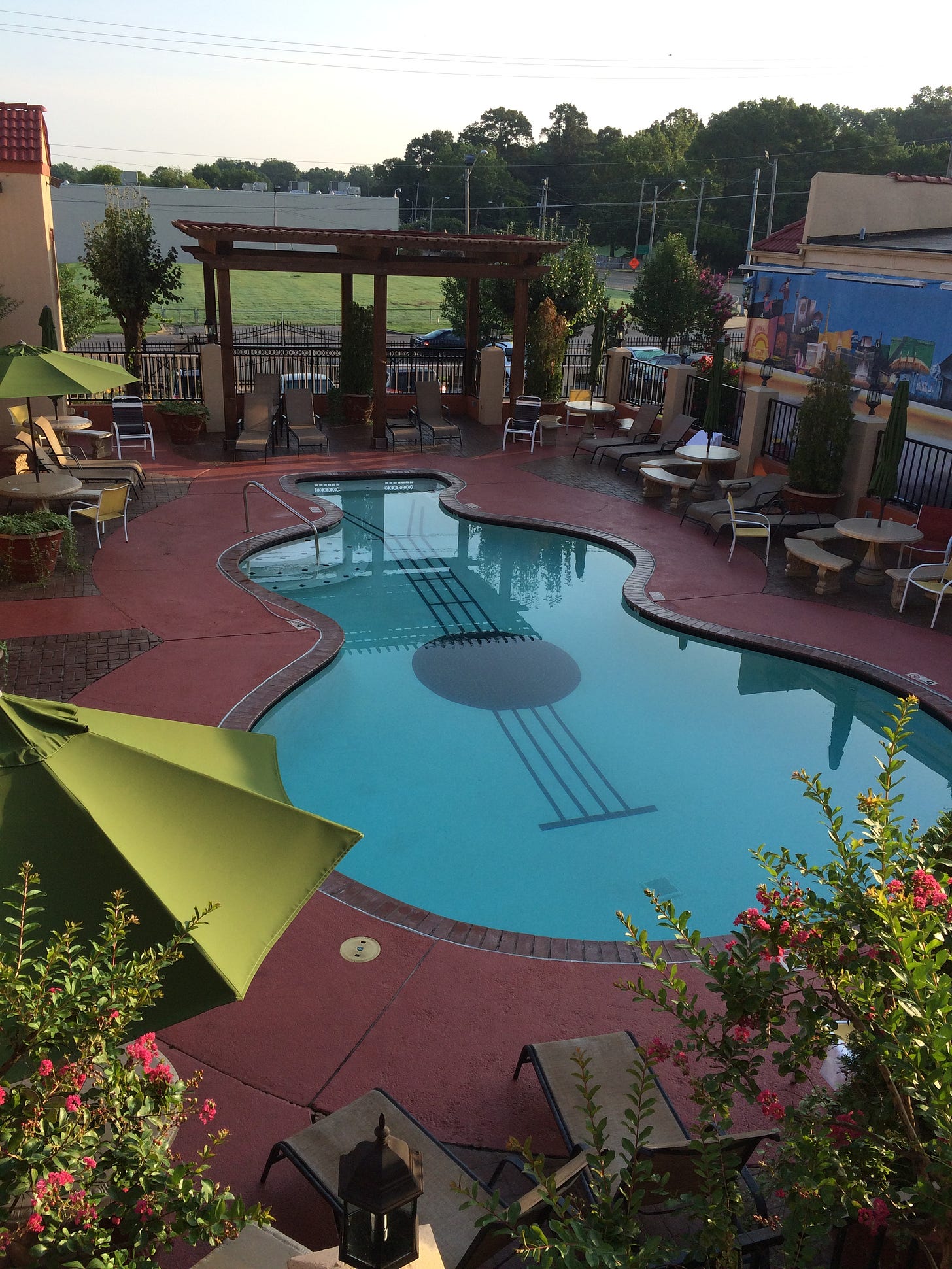 There is significant, and occasionally strong, commentary online over matters of street crime and personal safety in Memphis generally and, in particular, Whitehaven, where Graceland is situated. Gary reminds us that Memphis is a living, working city, not a theme park, and getting to know the city itself and living the Memphian summer heat is all part of the total experience. There is traditional southern hospitality to embrace, as well as the opportunity for some welcome camaraderie with fellow, like-minded tourists from all parts of the US and the world. From Gary's commentary we can reach the conclusion that there's no reason to be deterred from visiting Memphis over safety concerns, however, as with any unfamiliar city, visitors should remain aware of their surroundings, know where they are going and be alert. We understand that personal experiences will vary, and everyone should consider information from a wide variety of credible sources before making a decision on personal safety when travelling.
Although Elvis and Graceland inevitably form a big part of our Memphis segment, there are many other people and places to consider. Iconic recording studios, Stax, Sun, and Chips Moman's American Sound asserted huge influence over 20th century music and were collectively responsible for some of the most significant and enduring songs of that era. Many artists, Elvis included, did some of their best and most commercially successful work at these historic Memphis hit factories, backed by some of the finest in-house session musicians and producers in the business. Gary talks us through what part of this cultural history can still be experienced, with Sun Studios retaining its original location, interior and equipment, and providing atmospheric and informative studio tours.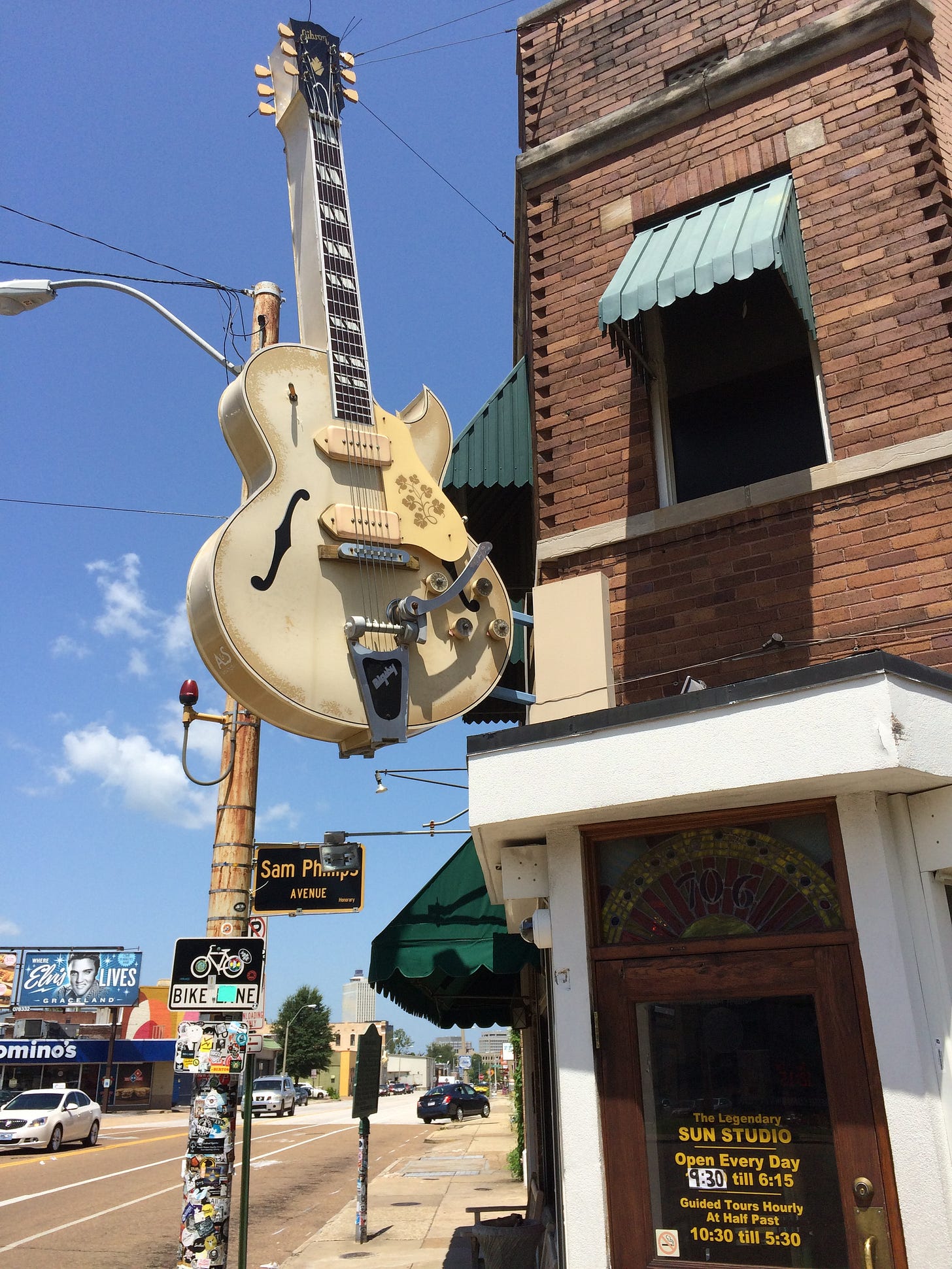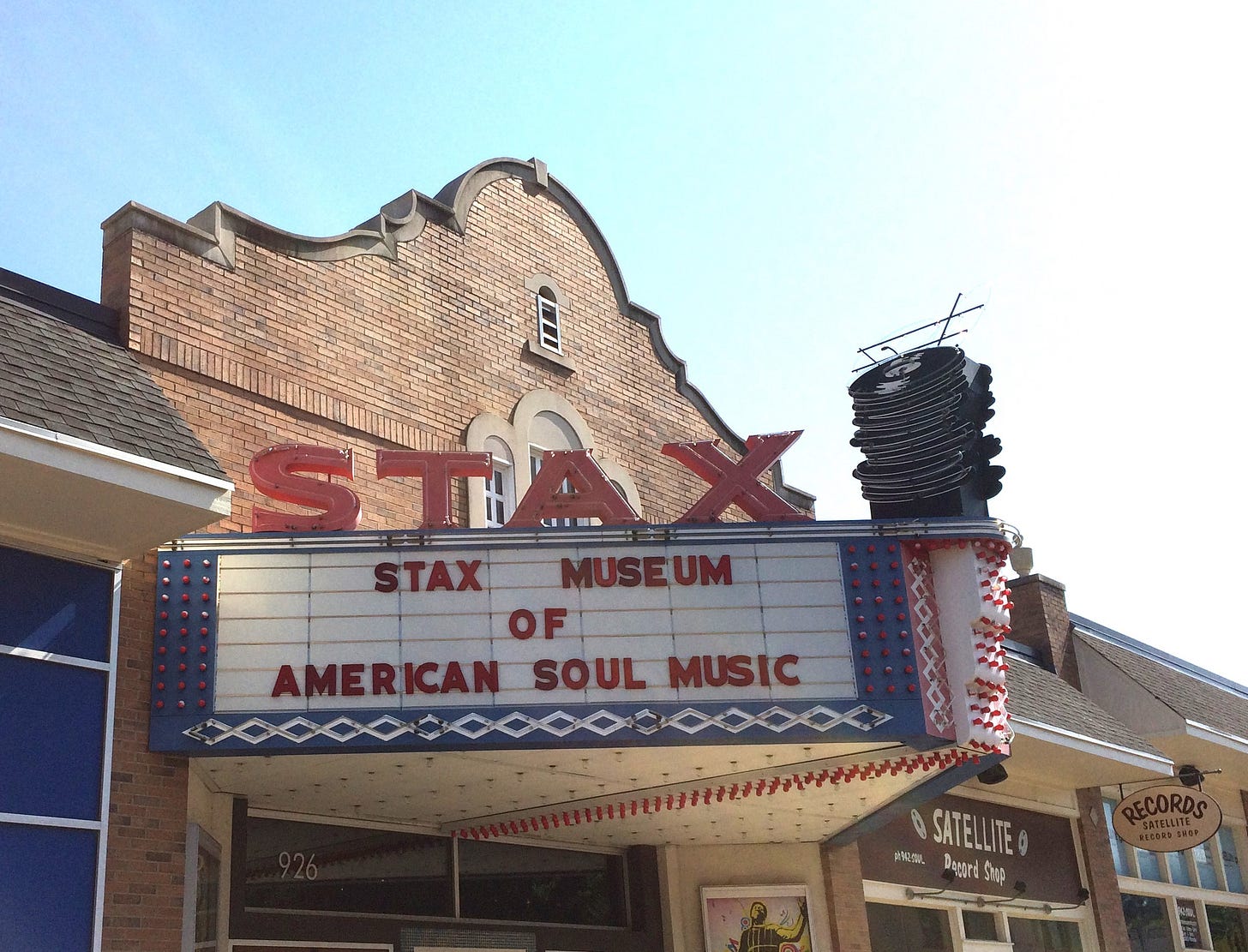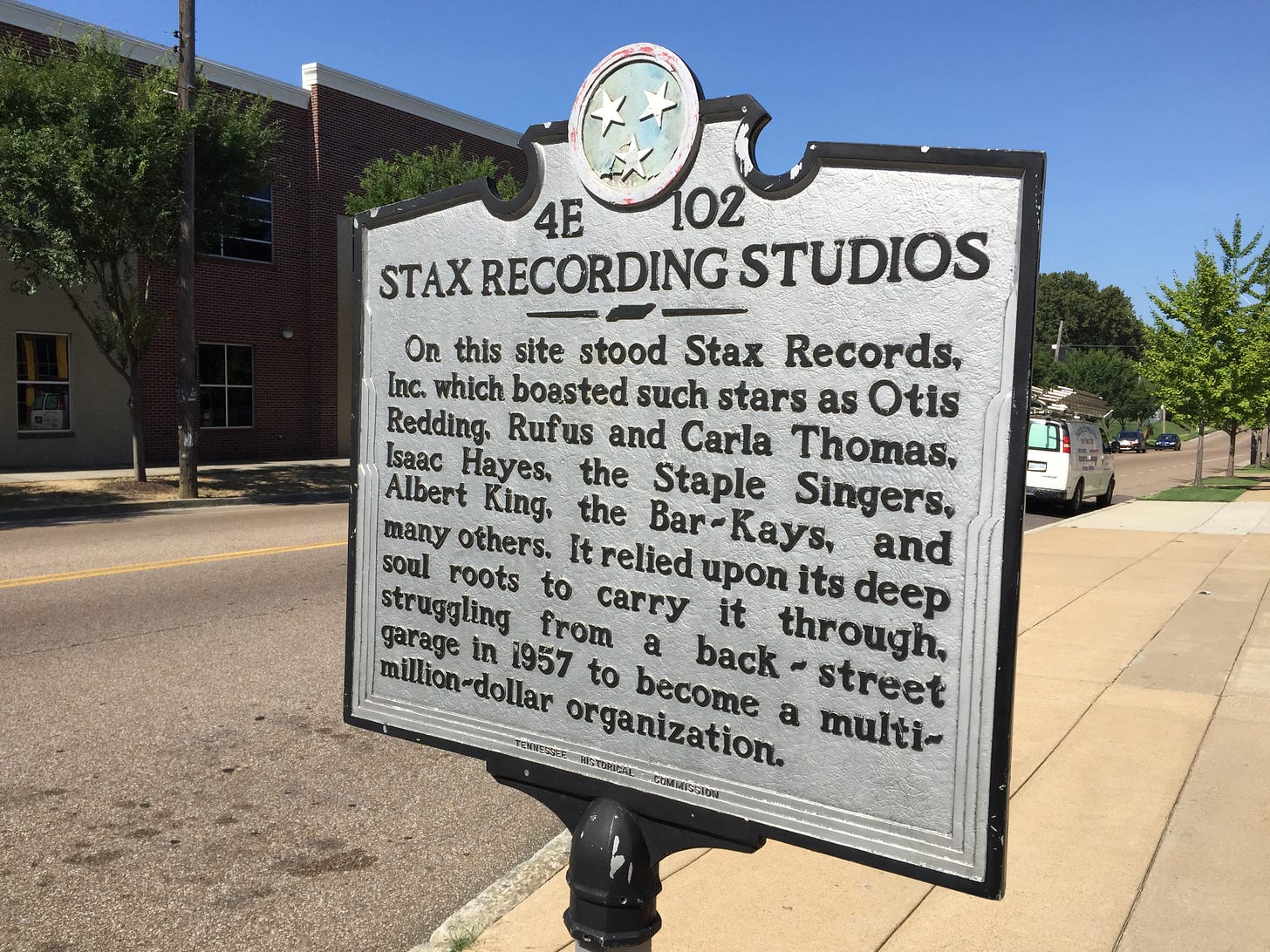 American Sound Studios has long since been demolished, although there is a commemorative plaque there, and a Family Dollar convenience store. There is a little more on American Studios by NPR's music writer and commentator, Ed Ward (1948-2021), consisting of a podcast and transcript;
The Forgotten Story of Memphis' American Studios
The Memphis Travel website states that around 20% of the early inductees into the Rock and Roll Hall of Fame came from within a 100 mile radius of Memphis, and that the Memphis Musicians Union, founded in 1873, is the oldest musicians' union in the country.
---
Another Memphis icon, Beale Street, is an entertainment strip where the best and worst aspects of city life can be on display at various times, but is steeped in cultural and music history. It has been voted the second most popular entertainment district in America following Bourbon Street in New Orleans. Gary recommends Lansky Brothers as a destination of particular interest for a daytime visitor.
Another highlight of Gary's Memphis itinerary is a visit to the Full Gospel Tabernacle Church, just a few minutes' drive from Graceland. Al Green is one of the most successful soul/R&B singers of all time, having sold 40 million records, won eleven Grammy Awards, Kennedy Centre Honours, numerous industry lifetime achievement awards, and as an inductee into the Rock and Roll, Songwriters, and Gospel Music Halls of Fame. His Sunday church services are popular with local Memphians and tourists.
---
In 1956, Elvis purchased a home at 1034 Audubon Drive and lived there with his parents, Vernon and Gladys, for 13 months before he acquired Graceland.
Gary takes up the story of 1034 Audubon Drive on his website, in a fascinating piece on musician, impresario, record company executive, motorsports team owner and politician, Mike Curb. Both Graceland and the house on Audubon Drive were first and foremost family homes, and it's well worth taking a moment to consider the real human stories behind these iconic attractions; Gladys Presley was very kind and welcoming to the young fans who turned up to Audubon Drive, in the brief period of Elvis' early fame before it all became unmanageable on that level.
We also have an extensive look at Graceland itself, its auxiliary facilities and exhibits. Every morning, the Meditation Garden is open to the public for one hour from 7.30 am, for free, to pay respects to the Presley family.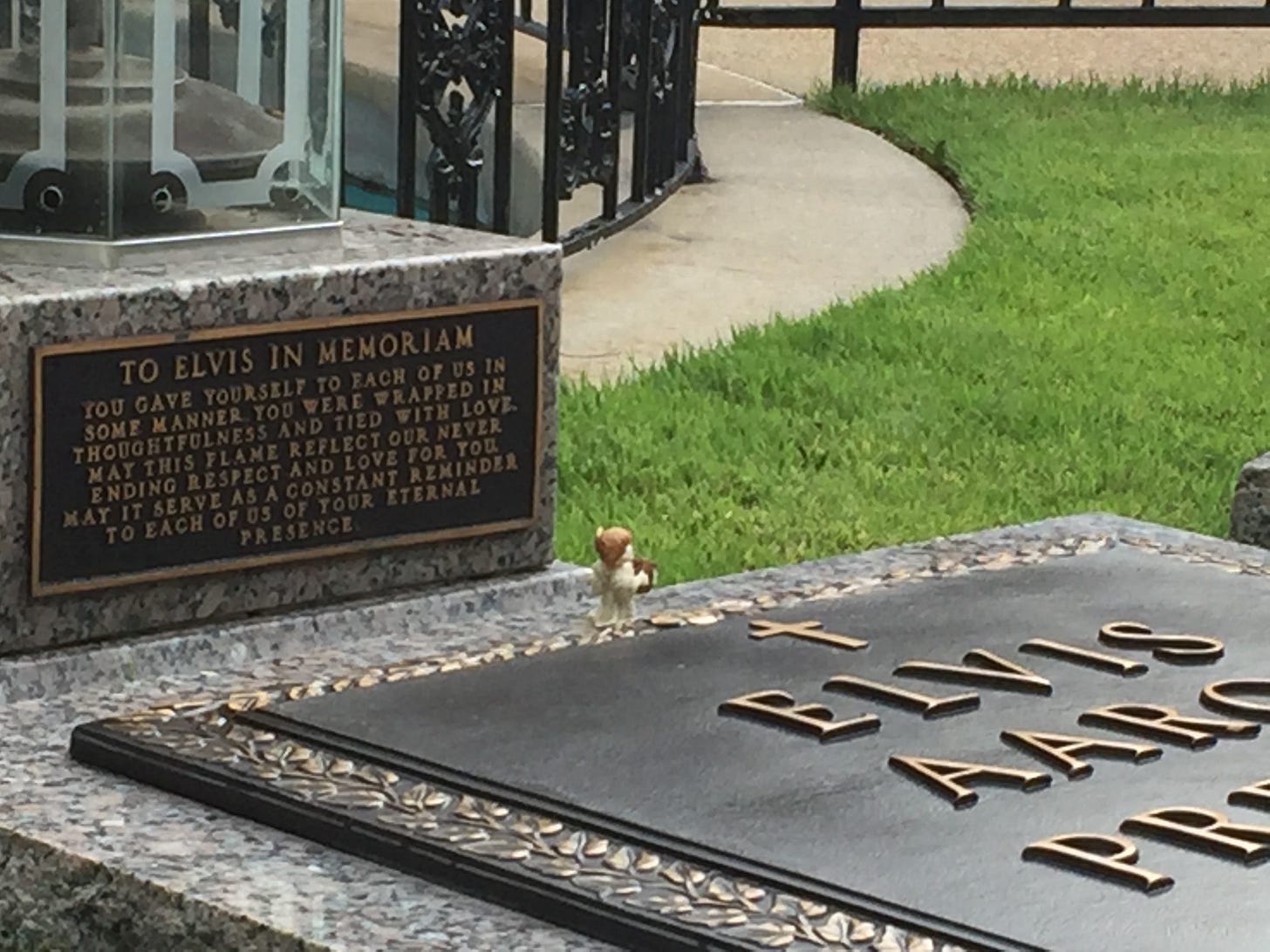 Ownership of the Graceland home, 13 acre grounds and family heirlooms remains, at the time of this edition, within the Presley family. Operations are administered by Elvis Presley Enterprises, which is 85% owned by Authentic Brands Group, and the result appears to be a well managed place of pilgrimage for fans, appropriately balancing commercial realities with the preservation of an incredible personal and artistic legacy.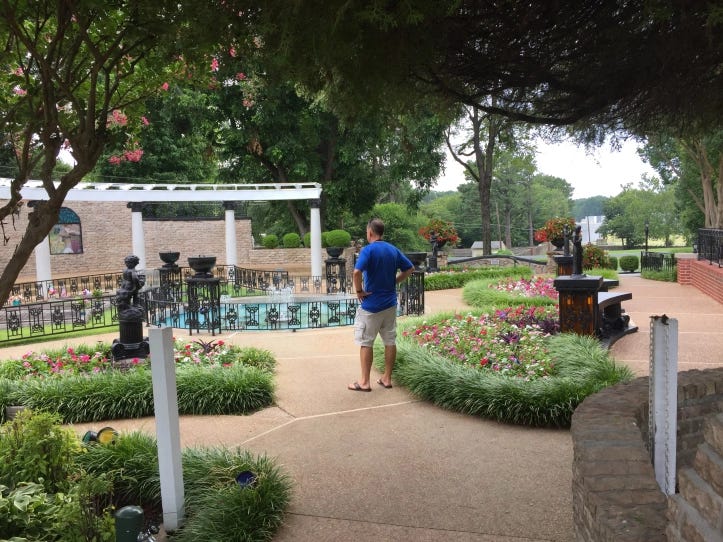 Find the official site here;
---
We've barely scraped the surface of Memphis as a destination, but there is lots more detailed information on the Memphis Travel website, including a fascinating page listing some 'fun facts' about the city, including;
Memphis has one of the top urban park systems in the nation covering 7 000 acres.
The Memphis Zoo was founded in 1905…Volney, the lion who roared at the beginning of all the old MGM movies, lived there until his death in 1944.
Home of W.C. Handy, the "Father of the Blues," and Robert Church, the South's first black millionaire. W.C. Handy was told by George Gershwin, "Your work is the grandfather of mine."
https://www.memphistravel.com/travel-professionals/tips-guided-tours
---
In our bonus segment right at the very end of the podcast episode, Gary takes us across the state line into Mississippi and talks us through a visit to Elvis' birthplace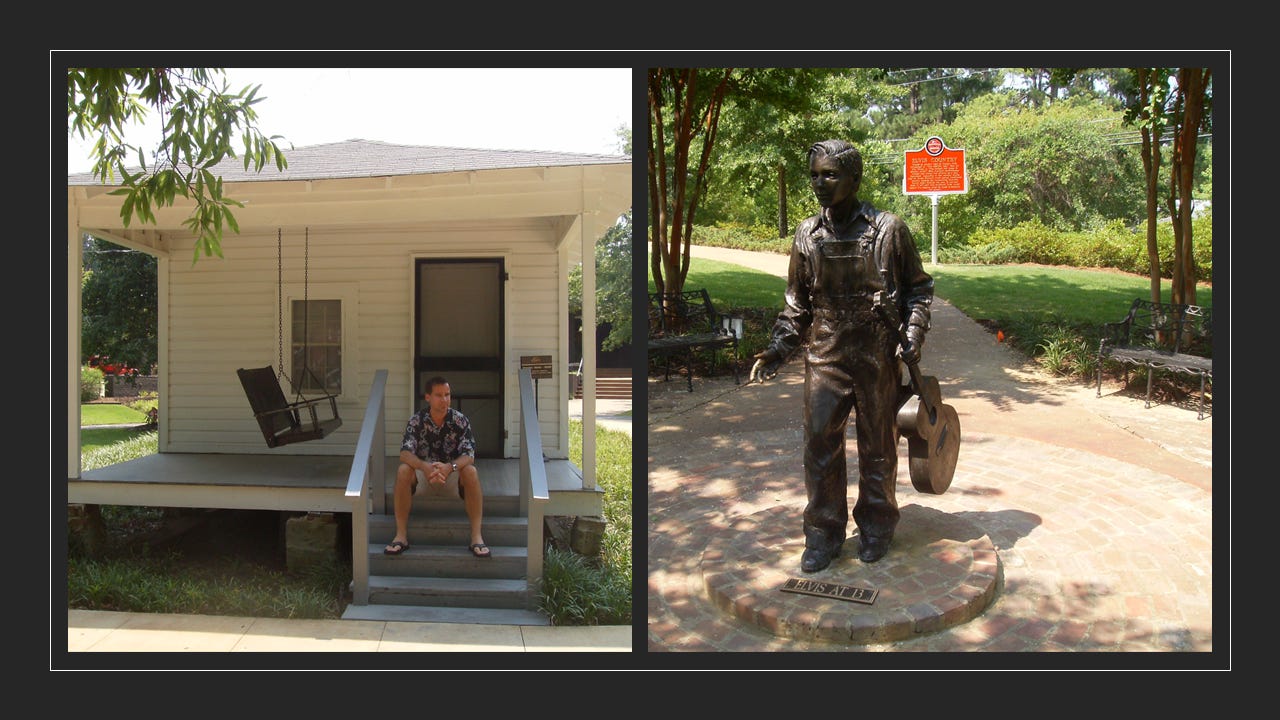 Information and commentary about destinations, opening times and city conditions generally are correct to the best of our knowledge at the time of publication (Originally on Substack October 2022. This edition February 2023).
Memphis and Tupelo images courtesy of Gary Wells. Used with permission.
---
The second half of this episode brings us from Memphis to Las Vegas, as we explore how the city has transformed over the latter half of the twentieth century, and what might still be there for the 'vintage leisure' tourist.
Initially a desert stopover and watering station for the San Pedro, Los Angeles and Salt Lake Railroad, Las Vegas, Nevada, was founded in 1905 and incorporated in 1911. It is around 270 miles northeast of Los Angeles.
The Golden Gate Hotel and Casino, initially the Hotel Nevada, was the first such establishment in Las Vegas, five years before the city was incorporated, and is still operating. Read about its eventful history here.
The first official gaming licence was issued in 1931, as the population boomed thanks to the construction of the Hoover Dam. The first of the modern themed casino resorts began to appear in the early 1940s; the iconic Flamingo opened in 1946, the Desert Inn in 1950, and the Sands in 1952.
Read more on the history of Las Vegas at
https://www.lasvegasnevada.gov/Residents/History/Timeline
The embedded presence of organised crime is a significant part of post-war Las Vegas history, and in 1950, Senator Estes Kefauver of Tennessee (1903-1963), convened his historic Special Committee to Investigate Organized Crime in Interstate Commerce at the Post Office-Courthouse complex (now, appropriately, the The Mob Museum). Las Vegas was one of fourteen cities in which the committee was taking evidence, however many of Kefauver's targets, including Desert Inn owner Moe Dalitz, were conveniently out of town on the day of the hearings. As a result, only four of the 11 000 pages of the committee's report related to Las Vegas. There is more on the Kefauver Committee, and its unintended consequences for Las Vegas, thanks to PBS;
Las Vegas: An Unconventional History.
From the mid-1960s, an influx of major corporate investment, spearheaded by tycoons like Howard Hughes, Kirk Kerkorian and Steve Wynn, corporatised the ownership of many of the hotels and casinos, and the underworld influence waned.
According to American Experience (PBS);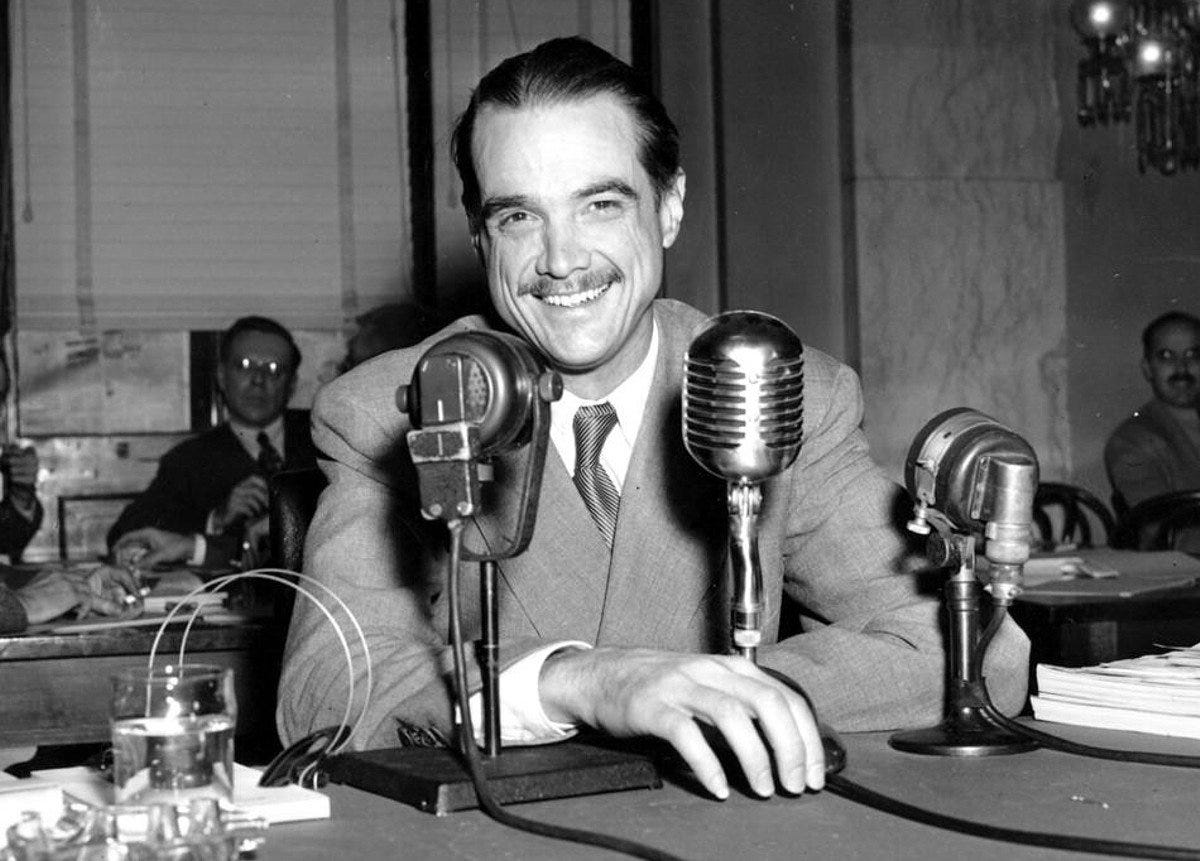 "…On Thanksgiving Day in 1966, Howard Hughes, one of the wealthiest men in the world, arrived in North Las Vegas via a private train. He was placed on a stretcher, put into a van, and ushered to the Desert Inn on the Strip, near where he had lived in 1954. His friend, Hank Greenspun, had reserved the top two floors of the hotel's penthouse suites for Hughes and his entourage of Mormon assistants, lawyers and Robert Maheu, his chief of security. For four years, Hughes remained in the city, not once leaving the confines of his suite. In those four years, Hughes would become Nevada's largest private employer, largest casino owner, largest property owner and largest mining claims owner. More importantly to Las Vegans, Hughes' presence would help to soften the image of Las Vegas in the eyes of the general American public, making way for the city's corporate, mainstream era…"
Professional hotel managers like Alex Shoofey became highly sought after; by 1967 he was running the Flamingo, by this point owned by Kirk Kerkorian, and within a year turned a 25 million dollar deficit into a 15 million dollar profit by keeping a tight rein on every aspect of the hotel and casino operations. It was now all about the stockholders, rather than syphoning money off the top for some old friends and associates in the Midwest and New York. Shoofey was the inaugural president of the International Hotel, initially also owned by Kerkorian, and astutely ensured Elvis was tied to a long term contract, overcoming Colonel Parker's hesitancy, and thereby changing the face of Las Vegas entertainment while guaranteeing a full hotel, packed showrooms and endless profitability for years to come.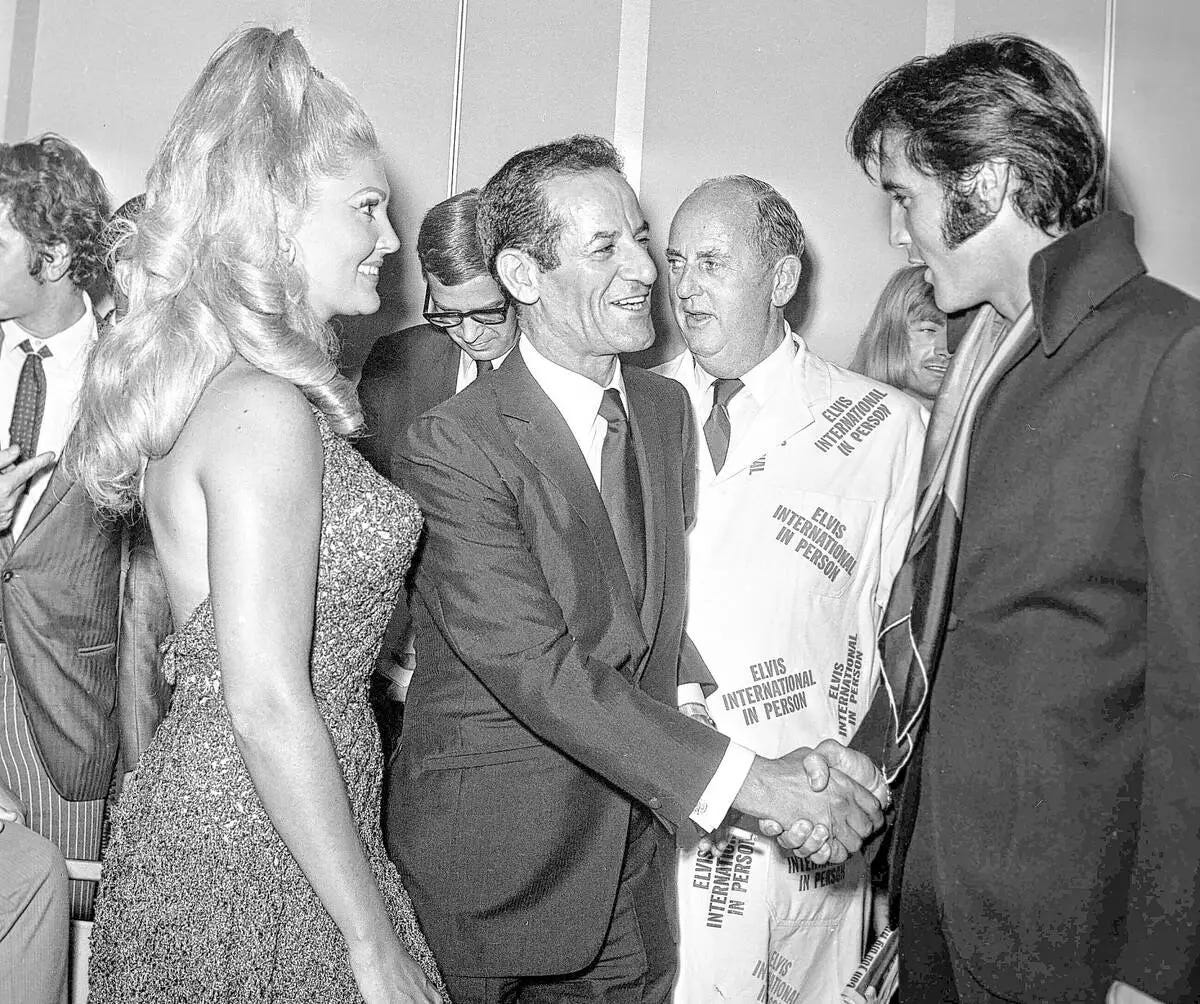 According to the Las Vegas Review-Journal;
"…Shoofey wasn't able to convince Presley's manager, Colonel Tom Parker, to let the singer open the new Showroom Internationale. Instead, he booked Barbra Streisand, then a 27-year-old rising singer, to perform on opening night…Presley began a four-week engagement at the resort at $100,000 per week on July 26, 1969. After a successful opening, Shoofey and Parker negotiated a new deal to book Presley four weeks a year for five years at a salary of $125,000 per week…Shoofey called it 'the best deal ever made in this town'…"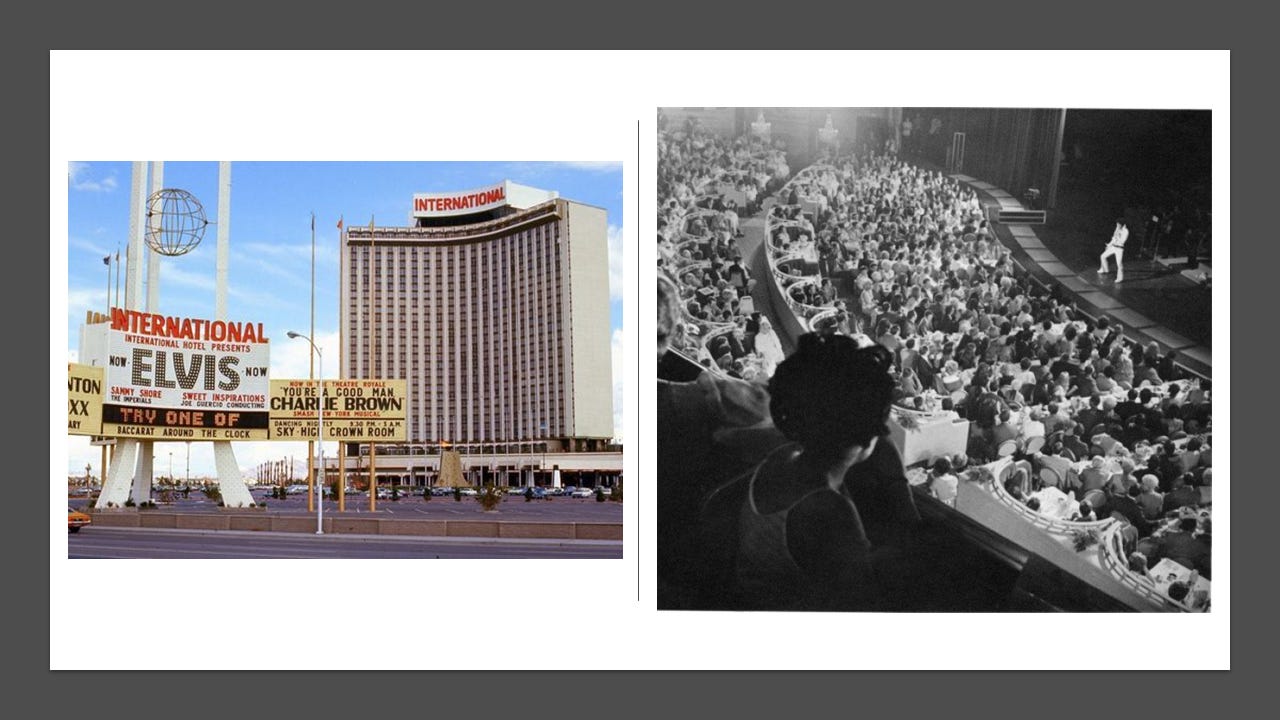 ---
Gary tells us that some tangible traces of the old Las Vegas can still be found, but you need to seek them out. The Golden Steer Steakhouse is a case in point. According to their website:
"…From Elvis, Sinatra and Muhammad Ali to modern regulars like Mario Andretti, anyone who's anyone has eaten at the famous Golden Steer Steakhouse – Las Vegas' oldest steakhouse. When you walk through our doors, you are instantly transported back in time with red leather banquettes, intimate lighting, and old-west art…"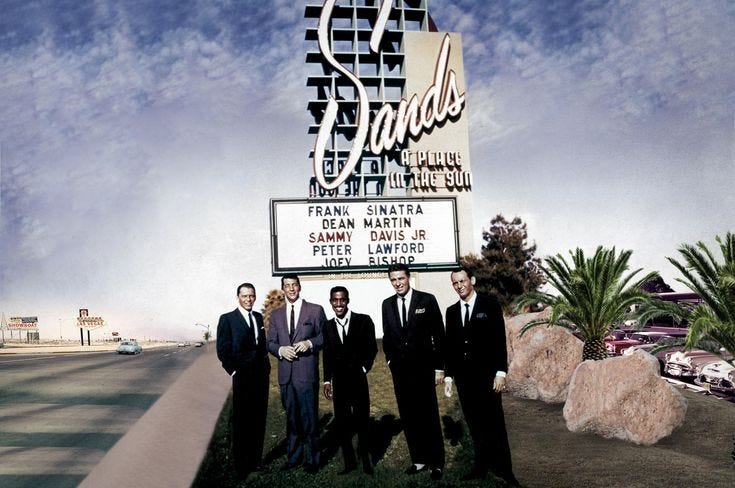 The Neon Museum houses many of the old Casino signs, and some old-school Vegas can be experienced at Atomic Liquors as well as the Peppermill Restaurant, which claims to 'proudly remain as an iconic reminder of the Vegas Strip the way it used to be'.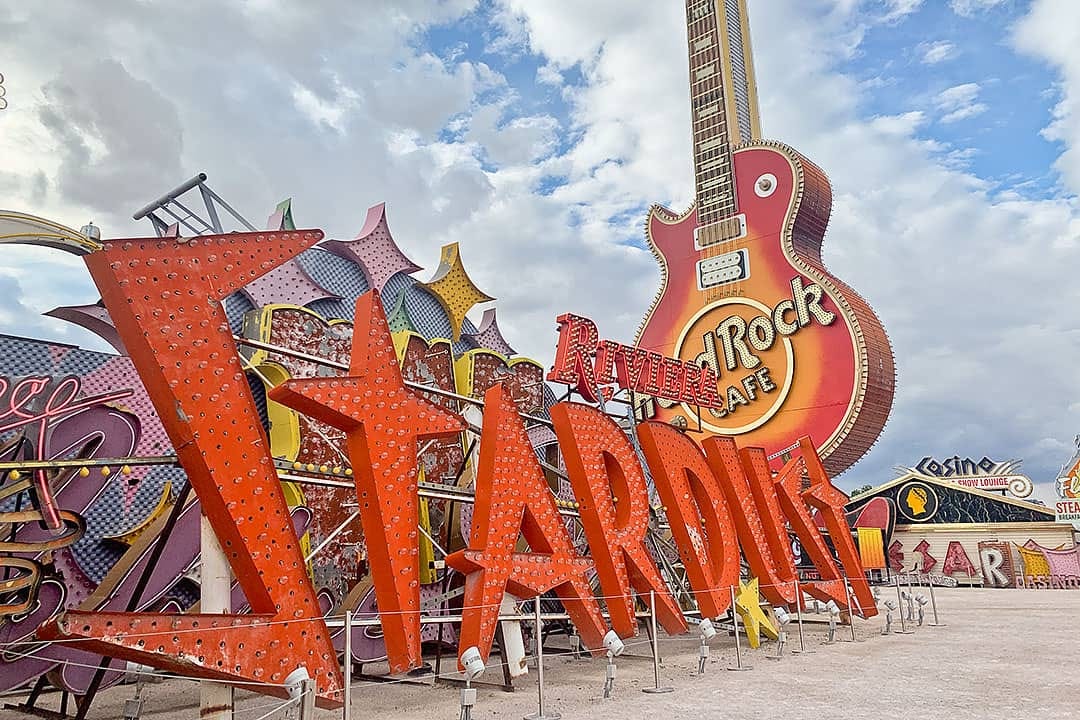 Kirk Kerkorian (1917-2015) was, along with Howard Hughes, a key force in the early corporatisation of Las Vegas. The son of Armenian immigrants, he sold his successful air charter business and began buying up Las Vegas real estate in 1962. He famously purchased the failing MGM studios in Culver City, once the dominant prestige studio in Hollywood, which led to a number of complex corporate plays over the ensuing years. Some of these back-and-forth manoeuvres also involved Ted Turner and United Artists, and the final outcome was that what remained of the depleted MGM studio facilities in Culver City were sold to Lorimar Telepictures while Ted Turner secured the best of the film library (Turner Classic Movies). Kirk Kerkorian ended up with an iconic brand, synonymous with the glamour and allure of golden age Hollywood, to put to work in his growing leisure and hospitality businesses, issuing a press statement in 1979 to the effect that MGM was, by that point, primarily a hotel company.
Perhaps the ultimate example of Las Vegas' transformation is the Bellagio. According to onthestrip.com (Link to read the complete article);
"…The Bellagio was originally the site of the legendary Dunes hotel and casino, which sold for $75 million in 1993 to Steve Wynn. Wynn, later owner of MGM Resorts, teamed up with Atlandia Design, owned by Mirage Resorts, and started crafting a modern model of the Northern Italian town of Lake Como, which it was named after. Dunes was demolished in October of 1993, shortly after Mirage celebrated success with the opening of their Treasure Island hotel on the strip…The plans were elaborate, estimated to cost nearly $1.6 billion, which made the Bellagio one of the most expensive hotels ever built at the time of its construction in May of 1996…"
For some additional learning, the BBC World Service documentary Las Vegas Stripped Bare is thoroughly recommended. It can be streamed or downloaded as a podcast.
---
We hope you enjoyed this trip through Memphis and Las Vegas with us. Very special thanks to Gary Wells for guiding us, and sharing the Memphis and Tupelo images from his own collection.
Images used in our Las Vegas segment, where not otherwise credited, are sourced from Pexels, and historical, official corporate, and local government websites.
George Fairbrother and DEC4 Publishing are not responsible for the content of external sites.